Grand Theft Auto Vice City – An Iconic Action Open World Game Worth Playing On Android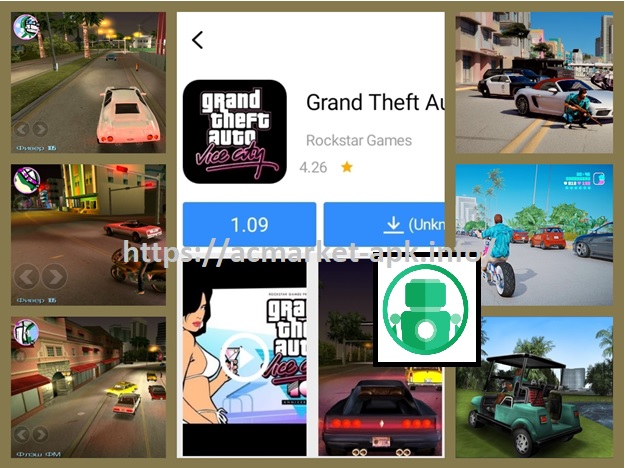 Time to Go back to 1980's Miami
No true Grand Theft Auto fan should miss out on Vice City. It is one of the central strands of the GTA series, along with other big names like GTA 3 and GTA San Andreas. It is not incorrect to state that GTA Vice City is Rockstar's first big step towards creating a large-scale open-world environment for immersive third-person gameplay.
Time and place are set in 1986 Miami, Florida, with many real-world people and events such as Cubans, Haitians, and biker gangs; the 1980s crack epidemic; Miami's Mafioso drug lords; and glam metal's dominance. You play the role of Tommy Vercetti, the protagonist and the playable character of the game. 
GTA Vice City Android Specifications
| | |
| --- | --- |
| Game Title | Grand Theft Auto Vice City |
| Latest Version | V1.09 |
| First Released Date | 6 Dec 2012 |
| Download Size | 1.49 GB |
| Downloads | 1M+ |
| License | Paid |
| Platform | Android 7.0 |
| Developer | Rockstar |
GTA Vice City Latest Version Download – AC Market
Download AC Market GTA Vice City apk latest version free for android mobiles and Tabs. Install it for windows PC via Android Emulator. AC Market Download APK latest version free for Android mobiles and Tabs and Windows PC from here.
Play Tommy Vercetti to Become the Undisputed Crime Lord
GTA Vice City has been influenced by movies, television, and music, including titles like Scarface and Miami Vice. Tommy Vercetti's protagonist seems to have been inspired by the fictional drug lord Tony Montana from the 1983 film Scarface. Your purpose as the player is to rise in the ranks to become a major criminal power in Vice City.
Just like the name of the game suggests, you have to engage in a lot of crooked underworld ventures and become embroiled in numerous conflicts with opposing criminal factions. The linear storyline allows you to complete missions to realize objectives. You can also engage in several side missions, and free roam in the streets and environments.
Highlights of Grand Theft Auto Vice City
Graphics, character models, and lighting effects have all been upgraded.
New shooting and targeting choices that are perfectly customized
Custom controls with a layout that may be changed at any time
Countless hours of gameplay in a massive campaign
Compatible with certain USB gamepads, including the MoGa Wireless Game Controller
Tactile effects are integrated with Immersion.
Customize your visual experience using graphic options that can be changed.
English, French, Italian, German, Spanish, Korean, Russian, and Japanese are all supported languages.
Overpower Rivals and Take Control of the Businesses
Vice City is similar in essence to previous GTA games in that themes of drugs, violence, sex, and gang politics are abundant. The game's progress means that you, as the protagonist, need to gradually take control of the businesses in Vice City while eliminating your competitors. This is only possible by playing according to the unique rules of the GTA gaming universe.
In the beginning, you get caught up in an ambushed drug deal, and you must hunt deep and find those who are responsible. You also need to invest in big businesses to generate a high income. For instance, you can invest in assets such as Malibu Club, The Pole Position Club, Interglobal Studios, Viceport Boatyard, Print Works, Sunshine Autos, etc. 
Prepare Yourself to Battle the Betrayals
Vice City invites you to reach the pinnacle of both wealth and power. To achieve this, you need to seize power from various criminal organizations and subdue their influence. Acquiring their assets improves your prestige. Betrayals are rife, and you will have to expect a lot of switches in loyalty.
This includes your best allies becoming foes at various points in the story. For example, Sonny Forelli, who is the boss of Vercetti, turns out to be the ultimate antagonist at the end. As the protagonist, you build meaningful relationships with some of the resourceful characters in the game. The nature of the story is that the main character has to depend on constructive relationships, without which the progress is unattainable.
Explore an Extensive Open World, Kill your Boredom
The importance of having alliances with gangs who support Vercetti is that they defend you when you are engaged in various missions. The rival gangs will identify you and attack you on sight. You get to explore Vice City on foot, by vehicle, or even by helicopter. If you are bored of doing any mission, you can spawn a tank to cause mayhem in the city. You can also participate in vigilante minigames, firefighting, paramedic service, and a taxicab.
When you complete these tasks, the game unlocks context-dependent rewards for you. Purchasing properties distributed across the city plays a crucial role as they can function as additional hideouts where weapons can be stored, and vehicles can be parked. When you purchase a particular business, like a film studio or taxi company, specific missions need to be accomplished to generate revenue.
Discover Your Taste of Vehicles, Weapons and Combat
The game mechanics include running, jumping, and driving vehicles as part of movement and transportation. Players can rely on melee attacks, firearms, and explosives for combat. Remarkably, Vice City incorporates an extensive range of fighting and weapons compared to previous GTA games.
You can fire weapons like the Colt Python, an M60 machine gun, a minigun, etc. The perspective of the Sniper Rifle and Rocket Launcher can be observed in the first-person view while aiming. It is also possible to engage in drive-by-shootings by facing sideways in a vehicle. You can purchase firearms from local dealers or be retrieved from dead enemies. 
Health and the Wanted Level
At the point of combat, you can seek the help of auto-aim to target enemies. If you suffer damage in action, you may use health pick-ups to recover from it. Body armour is available to circumvent gunshots and explosive damage, but it gets consumed in the process. When health is fully reduced, the gameplay pauses and you are respawned at the nearest hospital.
However, this leads to the loss of all weapons, armor, and some of the money. The wanted level is another important attribute in the game. The more crimes you commit, the more stars you earn. The maximum number of stars you can get is six, which means police helicopters and the military are chasing you down to destroy you.
Grand Theft Auto Vice City FAQ
Q – Is GTA Vice City free?
A – Even if the game title is old and the popularity has relatively waned, it is still commercially available. Unless it's a giveaway, Rockstar sells the game to those who wish to download it. However, if you want to play GTA Vice City on your Android Mobile, you can download the game from ACMarket for free
Q – Is GTA Vice City playing on Android?
A – Because of the game's popularity in the community, Rockstar decided to make it available for Android devices. The mobile gaming community is significant, and it expects high-quality games. You may get the game on your phone by following these steps: Go to the Play Store and type in "GTA Vice City. Additionally, you can get a Modified Version of the Game from ACMarket for free.
Q – Which game is better, GTA Vice City or San Andreas?
A – For those who want to relive the 1980s in a Miami Vice-style setting, Vice City is the game for you. Vice City also has music from the period. San Andreas is the game for you if you like a more expansive terrain with activities reminiscent of the West Coast gang culture of the 1990s. Mods for both games may be found in large numbers online.
Q – How many missions are there in Vice City?
A – Grand Theft Auto: Vice City has a lot of different missions. Eighty-seven overall missions, including 38 narrative missions, 19 asset missions, six racing missions, three stadium missions, four off-roading tasks, three remote-controlled missions, and a sparrow mission.
Praise and Disgrace
The game could garner critical acclaim with a high commendation for its story, gameplay, music, and open-world design. However, the inherent nature of the GTA series to attract controversy can be seen in Vice City as well. For instance, it generated conflicting views on violence and the depiction of racial groups in the game, triggering lawsuits and protests.
Commercially, Vice City turned out to be a huge success, selling 17.5 million copies. It is also regarded as one of the most prominent titles of the sixth generation video games. The game was also the recipient of numerous awards, including the game of the year from several gaming publications. In the GTA series, Vice City plays an iconic role as one of the most played games of all time.
Final Thoughts
GTA Vice City is a name you will never forget if you are a true fan. If you used to play this game on your old computer when you were barely legal age, you could now experience the nostalgia on a much smaller device such as your mobile. The high demand for Vice City meant that developers expanded the game to multiple platforms to increase accessibility. As a result, it made its way from the PlayStation 2, Microsoft Windows, Xbox, and Mac OSX to mobile platforms such as Android and iOS.
You can directly download GTA Vice City from the Google Playstore or Appstore. You can also get this epic game from various third-party App stores like ACMarket. There you will find Vice City Apk mods and indulge in a higher level of GTA experience without limits. The GTA mods on ACMarket are accessible, reliable and safe, with direct downloads and installations without complicated operations.